Plymouth Public Schools
The Mission of Plymouth Public Schools is to Challenge, Inspire, and Prepare all students for success in an ever-changing and complex world.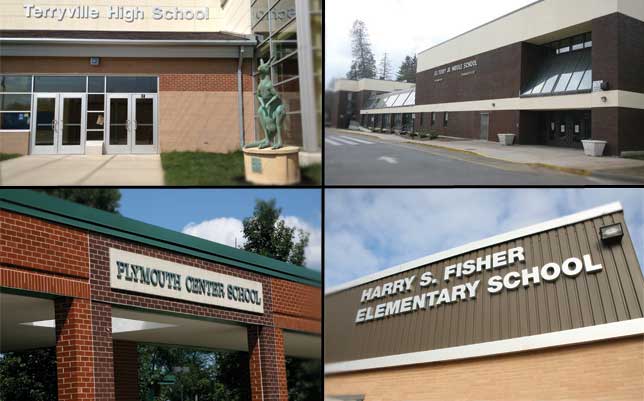 ---
Terryville 'Kangaroos' finalists in national mascot competition
WFSB 3 Connecticut
---
2014-2015 School Year Calendar
Superintendent Performance Survey
Solar Power Purchase and Sale Agreement
Plymouth Public Schools - Wellness Policy
Superintendent's Budget Presentation for 2014-2015
THS Spring Craft Fair May 3, 2014 9:30am-2:00pm
Agenda for April 23, 2014 Special Board of Education Meeting
2011-2012 District Strategic School Profile
2013 Superintendent's Convocation Presentation
---
Parents of new students who have recently moved to the Town of Plymouth should register their students at the Board of Education Offices

---
Plymouth School District Receives Power of Change Award for Energy Efficiency

Click HERE to read more about the award!
---
For more information on the Magnet Schools click HERE
For Magnet School Applications click HERE
---
The Local Prevention Council is doing a survey of parents in the community in in regards to substance use. Click HERE to take the survey!
This data collection is a key element in our continued efforts to prevent substance abuse among our youth in this community.
---

Five years ago, the Plymouth Public Schools were awarded a $500,000 grant to prevent substance abuse. We are applying for an additional $625,000 over the next five years and need to collect additional data.
We are kindly asking parents to fill out the following survey which will take about ten minutes.
Thank you for your participation.
The Plymouth Public Schools
Click HERE to take the survey!
---
We Believe:
*ALL children can learn and ALL educators are responsible for the achievement of ALL students.


*On-going communication between the home and school is an essential component of a student's successful educational experience.


*Mutual respect and cooperation among the school community promotes a safe, orderly and positive learning environment.


*Instructional and assessment techniques are a constantly evolving process which involve using all appropriate, available data, resources, and best practices to improve student learning.


*Members of our educational community are passionate learners who are enthusiastic, caring and committed to the enhancement of teaching and learning.