Plymouth Public Schools
The Mission of Plymouth Public Schools is to Challenge, Inspire, and Prepare all students for success in an ever-changing and complex world.
---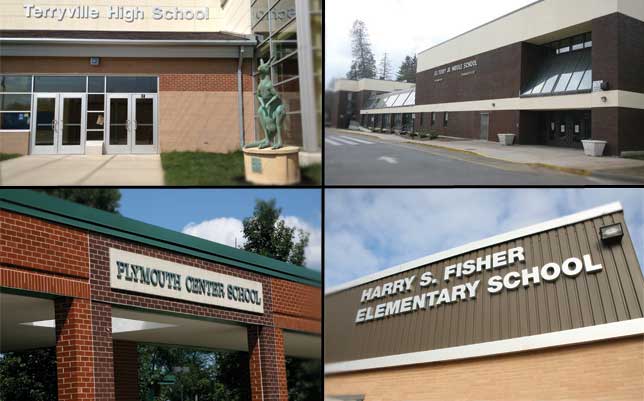 Congratulations to Plymouth's 2015-2016 Teacher of the Year Heidi O'Donnell
---
2015-2016 Bus Change Information
Public Information Session in regards to Bus Changes for the 2015 to 2016 school year.
July 29, 2015 at 7:00pm in the Plymouth Town Hall Community Room
---
New Superintendent Press Release
2015-2016 Board Adopted Budget Information
Shipman and Goodwin: Employment Law Letter
---
The Plymouth School District has revised and continues to revise curriculum, instruction, and assessment using the new Common Core State Standards (CCSS).
We are asking parents to please go online to fill out a survey so we can evaluate the implementation of the new standards in our district. The survey will take about 5 minutes to fill out. We would greatly appreciate your feedback.
Click HERE to take the Parent CCSS Survey survey!
---
June Update from the Board Chair
---
School Year 2015-2016 Information
Free and Reduced Lunch Application
Reminder: Kindergarten Registration
Plymouth Public Schools Reopening for Registration
2015-2016 School Year Calendar
2015-2016 Sport Physicals Information
---
Solar Power Purchase and Sale Agreement
Plymouth Public Schools - Wellness Policy
Plymouth Public Schools Breakfast Program
Breakfast in the Elementary schools will start on Sept 2nd
2012-2013 District Strategic School Profile
---
Terryville Fire Department Adopt-A-Hydrant Program
By adopting a fire hydrant close to your home or business and keeping it free of snow during the winter months you are helping to maintain a safer community!
Click here for more information!
---
Parents of new students who have recently moved to the Town of Plymouth should register their students at the Board of Education Offices
---
For more information on the Magnet Schools click HERE
For Magnet School Applications click HERE
---
The Local Prevention Council is doing a survey of parents in the community in in regards to substance use. Click HERE to take the survey!
This data collection is a key element in our continued efforts to prevent substance abuse among our youth in this community.
---
We Believe:
*ALL children can learn and ALL educators are responsible for the achievement of ALL students.


*On-going communication between the home and school is an essential component of a student's successful educational experience.


*Mutual respect and cooperation among the school community promotes a safe, orderly and positive learning environment.


*Instructional and assessment techniques are a constantly evolving process which involve using all appropriate, available data, resources, and best practices to improve student learning.


*Members of our educational community are passionate learners who are enthusiastic, caring and committed to the enhancement of teaching and learning.